Desert Diary
Fossils/Aztlanolagus

A frustrating thing about the past is knowing how things turned out, but often not having a clue as to reasons. One of our Chihuahuan Desert mysteries is why the Aztlán Rabbit no longer graces our land. This pygmy rabbit, or perhaps it was a hare, roamed through our countryside until fewer than 30,000 years ago, but is no more. Even smaller than our cottontails, it was built like a miniature jackrabbit, with legs for leaping rather than hopping. The implied agility accounts for the last part of its scientific name, Aztlanolagus agilis, but why the Aztlanolagus? The "lagus" part is easy, coming from the Greek word for hare. The "Aztlan" part? Well, as far as we know, its distribution was mainly along the U.S.-Mexican border, the area, according to Chicano folklore, known as Aztlán, the mythical homeland of the Aztec. Apparently it lived happily among the cottontails and jackrabbits almost through the ice ages. We'll probably never know, though, why this agile creature was unable to make a final leap to the present.



Contributor: Arthur H. Harris, Laboratory for Environmental Biology, Centennial Museum, University of Texas at El Paso.
Desert Diary is a joint production of the Centennial Museum and KTEP National Public Radio at the University of Texas at El Paso.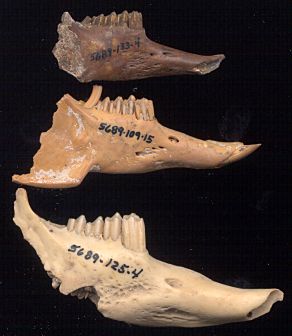 Fragmentary right lower jaw of Aztlanolagus (top) compared with the same elements from the Desert Cottontail and the Black-tailed Jackrabbit. All specimens from U-Bar Cave, Museum of New Mexico site 5689. The rather strange look of the toothrow of the Desert Cottontail is from a partially dislodged tooth later jammed in place.

References
Russell, B. D., and A. H. Harris. 1986. A new leporine (Lagomorpha: Leporidae) from Wisconsinan deposits of the Chihuahuan Desert. Journal of Mammalogy 67:632-639.
Winkler, A. J., and Y. Tomida. 1988. New records of the small leporid Aztlanolagus agilis Russell and Harris (Leporidae: Leporinae). Southwestern Naturalist 33:391-396.
Web Resources
Pendejo Cave: one of the sites from which Aztlanolagus has been recovered.