Desert Diary
Ecology/Longnose Gar

Dammed, straightened, polluted, and managed for irrigation, nearly dry in winter and never flooding, today's Chihuahuan Desert's Rio Grande is far different from the river first encountered by the Spaniards. Changes are not limited to those above water—even today's fish fauna is far different from that of the past.
Sturgeon (yes, the same group of fishes that produce caviar) lived near Albuquerque in 1874 and must have also been present farther south, but now are gone. The Longnose Gar, a holdover from ancient times, still is present in the Lower Pecos River, but archaeological findings near El Paso show that it occurred in the Upper Rio Grande in pre-Spanish times. The endangered Rio Grande Silvery Minnow has been extirpated from the El Paso region and to the south; although it still occurs farther north, conservationists trying to save the species fight with irrigation farmers over the water both require.
Are introduced fishes, such as Carp, a fair tradeoff for sturgeon and gar? Many a fisherman will tell you, "Not by a long shot"!


Listen to the Audio (mp3 format) as recorded by KTEP, Public Radio for the Southwest.

Contributor: Arthur H. Harris, Laboratory for Environmental Biology, Centennial Museum, University of Texas at El Paso.
Desert Diary is a joint production of the Centennial Museum and KTEP National Public Radio, University of Texas at El Paso.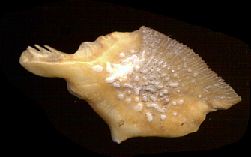 Gar scales, because of their heaviness, survive well as fossils or in archaeological sites. The rough area on the right half is the part exposed to the surface; the remainder is covered by overlapping scales. The scale shown is about 37 mm (1.5 inches) long.

Comments
Gar scales have been recovered from an archaeological site in the Rio Grande Valley near the New Mexico-Texas state line (specimens in the Centennial Museum collections). ahh

References:
Koster, W. J. 1957. Guide to the fishes of New Mexico. University of New Mexico Press, Albuquerque, 116 pp.
Sublette, J. E., M. D. Hatch, and M. Sublette. 1990. The fishes of New Mexico. New Mexico Department of Game and Fish, University of New Mexico Press, Albuquerque. 393 pp.