Desert Diary
Ecology/Slope Effects

The Chihuahuan Desert Region is blessed with an extraordinary diversity of living things—but why? Why does a landscape stressed by a dearth of water and an over-abundance of heat support so many kinds of living things?
Like many things with our desert, the answer is complex. The prehistory of our area, the rugged terrain, evolution working on populations of organisms scattered through the desert—these are only some of the factors at work.
Variations in the terrain create many more ecological niches than found in the flatlands, and both small and large differences affect plants and animals that live here. Soil depths vary greatly due to erosion and deposition. Water runs off in some areas and collects in others. And the elevation and slope exposure of a mountainside create marked differences in temperature and moisture.
Slope differences are some of the easiest seen. The next time you pass a deep arroyo running east and west, compare the vegetation on the north and south sides—two different plant worlds only yards apart!


Listen to the Audio (mp3 format) as recorded by KTEP, Public Radio for the Southwest.

Contributor: Arthur H. Harris, Laboratory for Environmental Biology, University of Texas at El Paso.
Desert Diary is a joint production of the Centennial Museum and KTEP National Public Radio at the University of Texas at El Paso.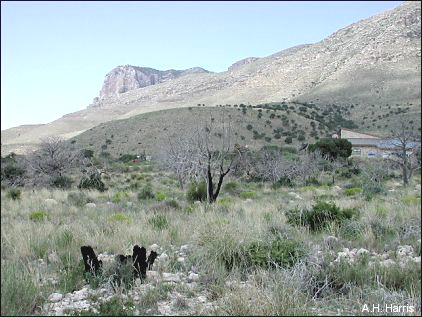 Guadalupe Mountains National Park, looking approximately west. Note the slope in the middle distance, with shrubs and small trees on the northern slopes and with few or none on the eastern and southern. El Capitan Peak on left skyline. Photograph by A.H. Harris, 24 August 2001.