Desert Diary
Culture/Santa Clara Pottery

This page was designed with CSS, and looks best in a CSS-aware browser—which, unfortunately, yours is not. However, the document should still be readable, though not presented in the most sophisticated manner.
Pottery has been made by Native Americans for thousands of years, and the tradition continues today with each pottery-producing tribe having distinctive styles and motifs. Their artful forms, designs, and the skill with which they were created have made them highly prized by collectors.
One of the most sought-after styles comes from the Tewa Indians of Santa Clara Pueblo. Their elegantly simple designs are expertly crafted in red or black ware. Although made from the same clay, it is how they are fired that causes the finished color. Red ware is produced in an oxygen-rich fire, while black ware results from the hot fire being smothered late in the process.
As Santa Clara pottery became commercially valuable, many old discontinued ceremonial forms like two-stemmed water vessels were revived, and new styles were developed. One style you are not likely to find now is the large storage container, reportedly measuring up to 4 feet in diameter. These masterful creations were made by hand without a potter's wheel. Imagine finishing the inside of such a large vessel.
To see examples of Santa Clara pottery, visit the Centennial Museum on the UTEP Campus.



Contributor: Scott M. Cutler, Centennial Museum, University of Texas at El Paso.
Desert Diary is a joint production of the Centennial Museum and KTEP National Public Radio at the University of Texas at El Paso.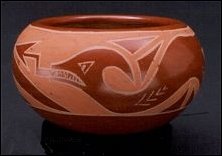 A Santa Clara pot from the Centennial Museum collections. Photograph by Scott M. Cutler.

References
Hill, W. W. 1982. An ethnography of Santa Clara Pueblo, New Mexico. University of New Mexico Press, Albuquerque. 400 pp.
Harlow, F. H., and J. V. Young. 1965. Contemporary Pueblo Indian pottery. Museum of New Mexico Press, Santa Fe. 24 pp.