Desert Diary
Climate/Wetland Loss

This page was designed with CSS, and looks best in a CSS-aware browser—which, unfortunately, yours is not. However, the document should still be readable, though not presented in the most sophisticated manner.
For several million years, the earth's climate has alternated between glacials—ice ages—and conditions like our current interglacial climate. As the last glacial ended, some 10,000 years ago, warming and drying became dominant in the northern Chihuahuan Desert. By around 4,000 years ago, full desert conditions had arrived.
Reconstructing the past climate and its effects on animals is detective work—gathering facts and trying to make sense of them. As often is the case with such inferences, parts of the picture may be perfectly clear while other portions remain fuzzy. We've always assumed that the Rio Grande Valley has supported wetlands continuously since the end of the ice age. We also know from fossil evidence that Meadow Voles, requiring such habitat in the Southwest, were present in the region around 8,000 years ago. What we don't know is whether this mouse survived into historic times or was eliminated earlier. An earlier extermination would imply complete loss of wetlands at some point during the last 8,000 years—with dire implications for upcoming climatic changes involved in global warming.



Contributor: Arthur H. Harris, Laboratory for Environmental Biology, Centennial Museum, University of Texas at El Paso.
Desert Diary is a joint production of the Centennial Museum and KTEP National Public Radio at the University of Texas at El Paso.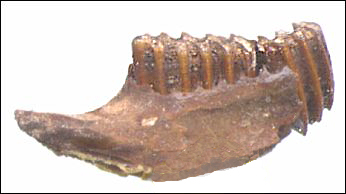 The anterior right jaw of a Meadow Vole (Microtus pennsylvanicus) with two molars; Khulo Site, Doña Ana Co, southern New Mexico. Dates indicate mixing of deposits, with the oldest radiocarbon date at about 8210 radiocarbon years ago. UTEP 21.65, scanned.

References
Smartt, R. A. 1977. The ecology of Late Pleistocene and Recent Microtus from south-central and southwestern New Mexico. Southwestern Naturalist 22:1-19.