Desert Diary
Birds/Seagulls

This page was designed with CSS, and looks best in a CSS-aware browser--which, unfortunately, yours is not. However, the document should still be readable, though not presented in the most sophisticated manner.
Seagulls in the desert? As long as they have a large enough tract of water and can find food, they're happy to be a desert surprise. The Ring-billed Gull, however, is a bit particular, and in the northern Chihuahuan Desert wetlands around El Paso, only takes up residency in the winter. Yet the Ring-billed and California gulls stay all year long and raise families at the Great Salt Lake in Utah and Mono Lake in California, both in the Great Basin Desert.
While gulls enjoy various aquatic creatures such as brine shrimp in saline lakes, they do not live on shrimp alone. These adaptable creatures will raid garbage dumps and cultivated fields to round out their diets.
Perhaps the presence of seagulls harks back to that time when much larger, inland, desert lakes were more common. Again we are reminded of our geological past.


Listen to the Audio (mp3 format) as recorded by KTEP, Public Radio for the Southwest.

Contributor: Scott M. Cutler, Centennial Museum, University of Texas at El Paso.
Desert Diary is a joint production of the Centennial Museum and KTEP National Public Radio at the University of Texas at El Paso.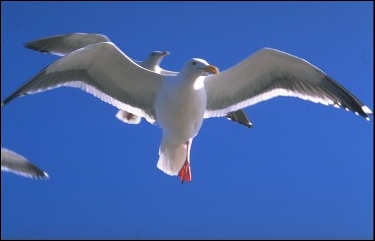 Seagulls in flight. Image courtesy of iMira.com.

References
Peterson, J., and B. R. Zimmer. 1998. Birds of the Trans Pecos. University of Texas Press, Austin, 184 pp.