Desert Diary
Birds/Gizzard

This page was designed with CSS, and looks best in a CSS-aware browser--which, unfortunately, yours is not. However, the document should still be readable, though not presented in the most sophisticated manner.
Yes, sirree Bob, them's as scarce as hen's teeth! Well, maybe not the best grammar in the world, but the reference would seem apt, since everyone knows that birds don't have teeth. But their ancestors did! Not only does the fossil record show this, but scientists have managed to coax tooth-producing genetic material of a chicken into action—genetic material apparently unused for over 65 million years. Nonetheless, modern birds don't normally sport teeth.
How, then, do our desert feathered friends manage—after all, as hot-blooded, fast-living creatures, they need every advantage in processing fuel. Depends. Some break up their food in the mouth enough for powerful digestive juices to do the rest. But many of our birds, especially the seed eaters, rely on a magical organ called the gizzard. With a tough, horny, inner surface and strong muscles, the gizzard acts like a mill to grind its contents, often with swallowed grit to aid the process. In experiments, Turkeys have ground 12 steel needles to pieces in only 36 hours. Snack of needles, anybody?



Contributor: Arthur H. Harris, Laboratory for Environmental Biology, Centennial Museum, University of Texas at El Paso.
Desert Diary is a joint production of the Centennial Museum and KTEP National Public Radio, University of Texas at El Paso.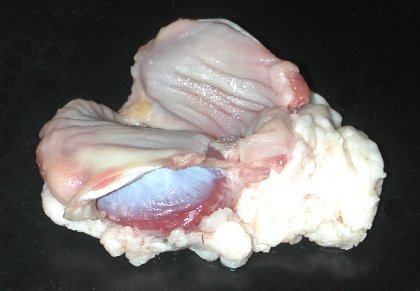 A turkey gizzard, sliced open for cooking. The grayish, grooved inner portion that protects more vulnerable tissues is clearly visible at top, while a small portion of the large muscle that makes up the majority of the organ is visible below, covered in part by bluish connective tissue. The light colored material is fat.

Welty, J. C. 1982. The life of birds. 3rd ed., Saunders College Publishing, 754 pp.