Desert Diary
Birds/Cattle Egret

This page was designed with CSS, and looks best in a CSS-aware browser--which, unfortunately, yours is not. However, the document should still be readable, though not presented in the most sophisticated manner.
Many animals and plants introduced from the Old World spread widely, often to the detriment of the environment. Some more adventuresome immigrants make it here without our help, however. One, the Cattle Egret, took the scenic route, crossing the Atlantic from Africa to northern South America, where it was reported in 1877. By 1942, it had island hopped through the Lesser and Greater Antilles to Florida, subsequently becoming widespread in the U.S. and Mexico.
Though generally benign, Cattle Egrets can be a nuisance to anyone living near a rookery. There, according to one scholar, "The rookery is ankle deep in bird droppings, eggs fall from the trees like leaves and shrubbery is coated with rotting yolks. Dead baby birds litter the ground. Fine feathers fill the air and the stench of ammonia hangs over the woods like a cloud."
True to their name, these birds generally associate with cattle, capturing insects stirred by the animals, and even landing on their backs to feed on horseflies and other pests—apparently with the thankful approval of the cattle.


Contributor: Arthur H. Harris, Laboratory for Environmental Biology, Centennial Museum, University of Texas at El Paso.
Desert Diary is a joint production of the Centennial Museum and KTEP National Public Radio at the University of Texas at El Paso.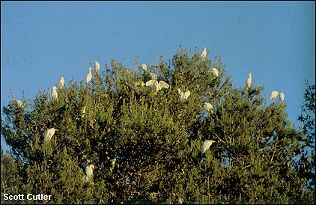 Egret rookery in Mondel Pines, Canutillo, TX. Photograph by Scott M. Cutler, 17 Jun 2001.

References
Long, P. F. 1979. Cattle egret: a good bird to have around. Farmland news, Ag. 31, p. 19.
Rubin, S. 1983. Birds outnumber residents, take over small town. Bryan-College Station Eagle, Aug. 7, p 2AA.
Snoddy, E. L. 1969. On the behavior and food habits of the cattle egret, Bubulcus ibis (L.). J. Georgia Entomol. Soc. 4(4):156-158.
Web Resources