Desert Diary
Birds/Condor Deaths

This page was designed with CSS, and looks best in a CSS-aware browser--which, unfortunately, yours is not. However, the document should still be readable, though not presented in the most sophisticated manner.
Periodically, the news media highlight the dangers to children of toys with small parts. We're also constantly reminded to not leave colorful or shiny small objects within reach of the little ones. Our own young aren't the only ones endangered. In the fall of 2002, the first three California condors to be hatched in the wild since 1984 died.
One of the three was found to have swallowed a dozen bottle caps along with other trash. Since the chick wasn't yet flying, the parents had to have brought the garbage to the nest, oblivious to the danger posed by the bright, glittering objects. Bottle caps aren't the only discards of humans dangerous to birds. A few years back, an adult condor expired after drinking spilled antifreeze, whose sweetness is a danger to wild creatures and young humans alike. Plastic bags are well advertised as a danger to babies, but discarded in water, they may appear like food to sea gulls. Maybe not smart on the part of the birds, but after all, they are SUPPOSED to be bird brains!


Contributor: Arthur H. Harris, Laboratory for Environmental Biology, Centennial Museum, University of Texas at El Paso.
Desert Diary is a joint production of the Centennial Museum and KTEP National Public Radio at the University of Texas at El Paso.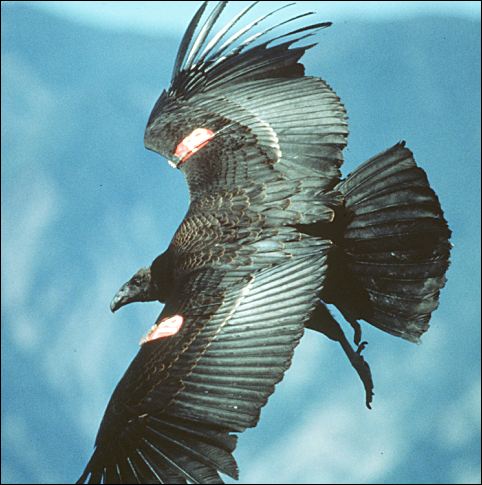 California Condor (Gymnogyps californianus). Image by David Clendenen, courtesy of the U.S. Fish and Wildlife Service.