Desert Diary

Birds/Bald Eagle

This page was designed with CSS, and looks best in a CSS-aware browser—which, unfortunately, yours is not. However, the document should still be readable, though not presented in the most sophisticated manner.
The majestic bald eagle—symbol of freedom for millions of people! Most people only think of these great birds as living in Alaska—or maybe other places far to the north. But some bald eagles actually come all the way to the Chihuahuan Desert wetlands for the winter. You know you've had a treat if you spot one of these birds in our desert.
Bald eagles feed on a variety of animals—sometimes even on water birds. If attacked, these birds can dive under the water, but that won't stop a hungry eagle! The eagle swoops repeatedly, until the other bird is forced to stop diving out of sheer exhaustion. The eagle also is somewhat of a bully, not above forcing other raptors to give up their prey.
You may have seen a bald eagle without even realizing it. Although the adults have white head feathers, younger birds don't attain this mark of distinction until

sometime after their 4th year, becoming recognizable as our national symbol.
Listen to the Audio (mp3 format) as recorded by KTEP, Public Radio for the Southwest.

Contributor: Kodi R. Jeffery, Centennial Museum, University of Texas at El Paso.
Desert Diary is a joint production of the Centennial Museum and KTEP National Public Radio at the University of Texas at El Paso.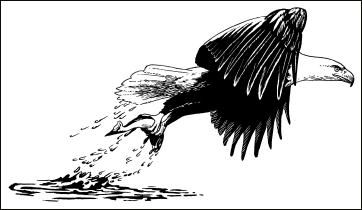 Bald Eagle (Haliaeetus leucocephalus) with prey. Drawing © 1999 Zackery Zdinak, used with permission.
References
Bent, A. C. 1937. Life histories of North American birds of prey. Part 1. Reprinted in 1961 by Dover Press, New York.
Bird, D. M. (ed.). 1983. Biology and management of bald eagles and ospreys. Proceedings of 1st International Symposium on Bald Eagles and Ospreys, 1981. Harpell Press, Ste­Anne­de­Bellevue, Quebec.
Brown, L. 1970. Eagles. Arco Publishing Company Inc., New York.
Brown, L., and D. Amadon. 1968. Eagles, hawks and falcons of the world. Vol. 2. McGraw­Hill, New York.
Burton, P. 1983. Vanishing Eagles. Dodd, Mead, and Co., New York.
Gerrard, J. M., and G. R. Bortolotti. 1988. The bald eagle. Western Producer Prairie Books, Saskatoon.
Gerrard, J. M., and T. M. Ingram (eds.). 1985. The bald eagle in Canada. Proceedings of Bald Eagle Days, 1983. White Horse Plains Publications, Headingley, Manitoba.
Godfrey, W. E. 1986. The birds of Canada. Rev. ed. National Museum of Natural Sciences, Ottawa.
Savage, C. 1989. Eagles of North America. Western Producer Prairie Books, Saskatoon.
Stalmaster, M. 1987. The bald eagle. Universe Books, New York.
Web Resources
American Bald Eagle Information.
Canadian Wildlife Service's Hinterland Who's Who. Basic information.