Desert Diary
Archaeology/Chinatown

Some of our very best data about the past comes from garbage—yes, I said garbage! Whether the refuse from ancient Native American villages or that of modern cities, people throw away that which they'd never think of preserving in oral or written history. Archaeologists and students of present-day common people mine this wealth of information.
A case in point is El Paso's Chinatown, concentrated along Oregon Street between what is now Overland and Paisano, thriving from about 1883 into the second decade of the 20th century. Excavations by New Mexico State University revealed bones of the expectable pigs and chickens of the traditional Chinese diet, and locally obtainable soft-shelled and pond turtle remains were common. Less expected were cuttlefish and Spotted Sea Trout that had to have been shipped in from the West Coast. Rare, but intriguing, were Domestic Cat, Badger, and Ringtail—evidence that the Chinese cuisine was more varied and creative than that of today's El Paso population.
Listen to the Audio (mp3 format) as recorded by KTEP, Public Radio for the Southwest.

Contributor: Arthur H. Harris, Laboratory for Environmental Biology, University of Texas at El Paso.
Desert Diary is a joint production of the Centennial Museum and KTEP National Public Radio at the University of Texas at El Paso.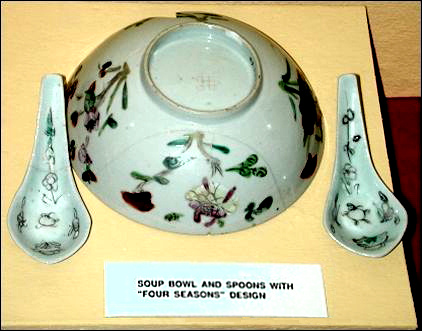 Soup bowl and spoons recovered from El Paso's Chinatown.

References
Harris, A. H. 2004. Additions to the archaeological fauna of the former Chinatown section of El Paso, Texas. Southwestern Naturalist 49:534-538.
Staski, E. 1985. Beneath the Border City, Volume 2: The Overseas Chinese in El Paso. New Mexico State University, University Museum Occasional Papers, no. 13, 302 pp.
Web Resources
El Paso's Chinatown, by Carry Beverly.