Gardens Sculpture
CHIHUAHUAN DESERT GARDENS
SCULPTURE: RAKE MARK
(Marker Series) 1999-2000
By Otto Rigan
Utah Red Sandstone & Green Glass
60" h x 24"w x 12"d
1,866 pounds
CHIHUAHUAN DESERT GARDENS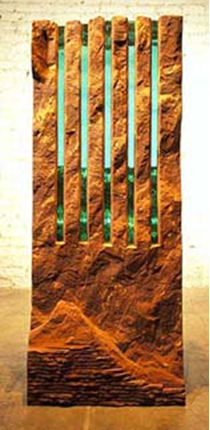 Gift of Otto Rigan, 2006
Rake Mark of the Artist's Marker Series
The sculptor's shaping and the materials used are balanced to give them equal importance. Yet the juxtaposition of the transparency of glass and the density of the marked stone creates a language of tension much like the linking of the subconscious with the conscious. The shape is reminiscent of the prehistoric stones common in the United Kingdom
Artist Otto Rigan
Mr. Rigan is an American sculptor using direct carving methods to work stone and glass into abstract/realism styles while focusing on the way light plays off of shape, color, and texture.
Although he was trained as a painter at the Academia di Belli Art, in Florence, Italy, and continued his art studies in California, his curiosity propelled him to pursue many cross-disciplinary projects such as writing and photographing four books on the subjects of contemporary glass and architecture, and lecturing across the country. His interest in large-scale public commissions began in college, but it wasn't until his early 30s that he began producing the sculpture for which he is most noted. Many of his larger commissions merge architecture with landscape. Much of his work is done as a series, such as Wall Works, which address the unique limitations of walls; architecturally inspired Columns and Reconstructions; and the intimate Low Stones.
Mr. Rigan's sculptures are widely exhibited and he has been commissioned to do major works for corporations, as well as to produce public art projects for cities.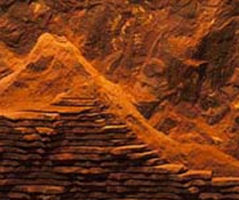 Detail of Rake Mark
Photographs courtesy of Otto Rigan